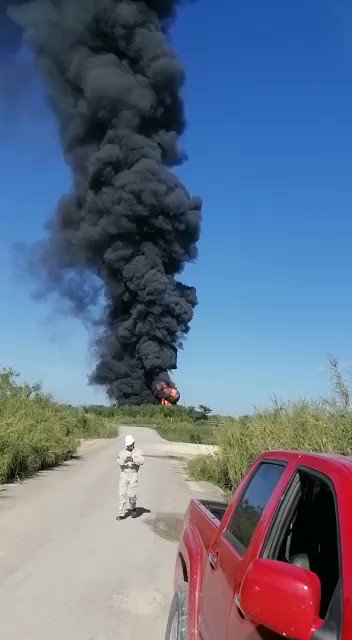 Project Veritas gets a whole new tone; more coincidental fires break out at soft infrastructure targets; Sidney Powell wins in Texas; and a new poll is great news for Florida's Governor.
www.coffeeandcovid.com
Yesterday Bloomberg ran a story headlined, "Pemex Safety Under Scrutiny After Three Separate Fires in One Day." Weird.
Now remember: industrial fires happen ALL THE TIME so don't be a deranged, tinfoil-hat lunatic who spots a new conspiracy under every third shrubbery. All right? In the most stunning coincidental infrastructure fire to date — and OF COURSE it was merely a coincidence — there were three separate oil fires at three separate oil refineries all owned by the SAME COMPANY, Mexican oil refiner Pemex:
1. A Veracruz oil storage facility
2. A Minatitlan, Veracruz oil refinery
3. A Deer Park, Texas, oil refinery
Between the three fires, five people are still missing and eight were treated for injuries, according to Reuters.
Many folks have speculated recently that the United States is currently experiencing a widespread, covert, domestic infrastructure attack. If correct, the tactic appears to be the use of attacks against private food and energy suppliers and manufacturers — so-called "soft targets." The attacks are camouflaged as accidents and the perpetrators are careful to get in and out quickly without leaving a trace.
This strategy is nothing new. It's a common feature of "asymmetric warfare," a "death by a thousand cuts" strategy where a smaller opponent weakens and undermines a larger, better-armed one — inside its homeland, far from the frontlines. The technique probably dates all the way back to the Roman Empire, or maybe to Babel itself.
The best evidence supporting the attacks is the lack of any public explanation following the fires. We've all seen it a hundred times. Normally, it's rare for the cause of a fire to be unknown. It happens, but it's rare. Usually the very first report of the fire goes something like this: "A fire broke out in the Kip's Bay trailer park last night after popular resident Martha Horstead, 73, fell asleep watching 'Jeopardy' leaving an unattended broccoli casserole in the oven."
Now the cause of the fire is ALWAYS unknown, and it seems like it always will be. It's the same kind of evidence as how, before two years ago, whenever young people 'died suddenly' we almost always immediately knew why: "Daniel Roatman, 28, died in a horrifying bungee accident yesterday after operators failed to double-check his restraining halter before the jump. The cause of death has not been officially released."
Nowadays it's just: "Daniel Roatman, 28, was found dead in his bed Saturday morning after an unremarkable, not-in-any-way surprising or mysterious brief illness. The cause of death has not been officially released. Plus he was arrested three years ago for marijuana possession, so you do the math."
But I digress. I can't figure whether, if we WERE under covert infrastructure attack, it would make more sense for the government announce it publicly and warn everybody, or keep the enemies guessing by keeping quiet. I could argue either way.
These private infrastructure targets are almost impossible to protect. There are just too many of them, they are spread out all over the country, and they weren't originally located with defense in mind, so they're often found located in inconveniently vulnerable spots. The only realistic option is to stop the enemy before it can attack.
The worry, of course, is that Homeland Security and the FBI are more concerned with tracking down J6 insurrectionists, abortion-clinic protestors, and homeschool moms, than they are about catching foreign-adversary infrastructure arsonists.
.https://video.twimg.com/ext_tw_video/1629116971185762305/pu/vid/320x580/FSlIpKX33H1fsUUY.mp4?tag=14