This space intentionally left blank
The Anti-Christ will appear on 11 October 2022 in Damascus.
Oh yeah? At their public library, for Family Storytime? Thanks for the heads-up!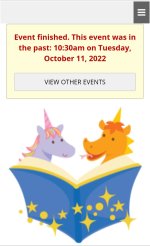 These 25-30-minute programs are designed to delight children of all ages and are filled with diverse stories and activities that promote and develop language skills and imagination.
mcpl.libnet.info