Crackhead son of President Potato makes $11 million from country that President Potato gives 40 billion dollars to.

Mainstream media yawns, says there's no story here.
Trump was impeached on the lie that Trump asked Ukraine for false dirt on Biden. The truth is Trump simply asked the new President of Ukraine to help with ongoing investigations into the ongoing Biden criminal operations in Ukraine. Democrats wickedly refused to allow Trump to defend himself and wickedly hid the Hunter laptop that would have exonerated Trump. And some Americans still believe the democrats do not sin and would not ever commit massive voter fraud. Those rubes are idiots.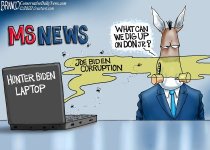 Last edited: