BANNED
Banned
LIFETIME MEMBER
We've covered quite a bit of area in this 2 part thread that is close to 2 years old, a subject that has generated over 13,000 posts and close to a half of a million views, and we're far from being done.
Link to part 1
http://www.theologyonline.com/forums/showthread.php?t=84307
Link to part 2
http://www.theologyonline.com/forums/showthread.php?t=90740
For those that have been following the thread, you've seen 4 things time and time again that are key to the proud and unrepentant homosexual lifestyle and the agenda that grew like a out of control cancer since homosexuality was decriminalized just over 10 years ago:
1). Infiltrating and redefining society's invaluable and important institutions.
Since homosexuality was decriminalized, we've seen how the invaluable institutions of marriage and the family have been mocked by homosexuals in the name of "equality". We've also seen how these very very sick people through their evil agenda and political and cultural clout were able to enter and have a negative effect on other institutions such as the military, the media/entertainment, and youth mentor groups. I'll continue to talk about those institutions throughout part 3 of the thread, as well as go into other institutions (which I've briefly talked about, but will go into greater detail) such as education and religion.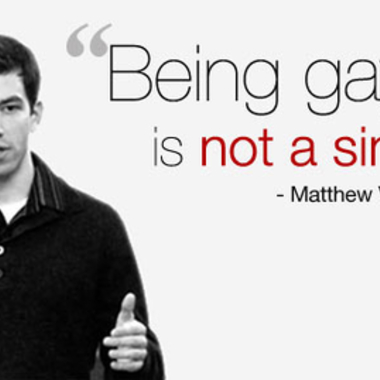 2). The indoctrination of children and teens into accepting homosexuality as something 'normal'.
By exposing toddlers and infants to homosexual 'culture' and being raised by homosexual 'parents', it starts children off at a very young age into accepting this perversion as something natural.
Two year old adopted twins of homosexuals at San Francisco's Folsom Street Fair
This indoctrination not only involves taking these innocent children to homosexual "pride parades" and festivals where all kinds of sexual debauchery are openly displayed in public, but indoctrinating them through the news media, entertainment and education.
The physical molestation of our youth has always been a big part of homosexuality as well, be it 'grooming' children into having sex with a homosexual elder, or the outright rape of the child. We've seen that the modern day "pioneers" of the homosexual movement were advocates of the pedophile organization known as the North American Man Boy Love Association, and it will be shown in the "Homosexual Pedophilia and Pederasty" segment that children have always played a major role for many of those that engage in homosexual behavior.
As seen in this Youtube video, compliments of our friend Peter LaBarbera at Americans For Truth About Homosexuality, proud and unrepentant HIV homosexual Walter Lee Hammond II has seen older homosexual males chase teenage boys "a thousand times".
http://americansfortruth.com/2014/0...would-not-let-my-teenage-sons-around-gay-men/
Homosexual activists also use the force of law to take parental rights away from those parents who want to help their sexually confused child who is suffering from same sex attraction. Drafting and passing legislation that prohibits those children from receiving therapy is yet another form of child molestation.
3). Intolerance and violence against those that speak out against homosexual behavior or it's agenda and amongst those that engage in homosexual behavior themselves.
Remember that these threats and violence are often times perpetrated against Christians whose only 'crime' is that they're attempting to share the Word of God with sinners.
Chased out of the Castro
Homosexual violence and Crimes in San Francisco
Bakeries, florists and innkeepers who simply state that it goes against their Christian beliefs to cater to a faux homosexual marriage ceremony, have been fined, threatened with jail time, and ordered to attend "sensitivity training".
Professional athletes, the most recent being a football player who responded on a social network to an openly homosexual football player kissing his boyfriend with the word "horrible", was suspended, fined and sent to "sensitivity training" for his non politically correct view of homosexuality.
http://www.breitbart.com/Breitbart-Sports/2014/05/20/Don-Jones-Returns-from-Sensitivity-Training
I'll continue with "violence amongst homosexuals" in part 3, showing the disproportionate amount of homosexual serial killers and the violence amongst homosexual domestic partners.
4). Disease and early death.
Throughout both part 1 and 2, reports have been shown that homosexuals are disproportionately contracting HIV/AIDS and various other sexually transmitted diseases through CDC and other medical organization studies. I've also shown why these terribly sexually confused people contract these preventable diseases, but will go into much greater detail in a segment entitled "Disease and early death amongst homosexuals".
"We know that the law is good if one uses it properly."
1 Timothy 1:8
Let's start using it properly people and put an end to this insanity.
Last edited: