http://theologyonline.com/showthread...=1#post5162103
Is this thread STILL going on? How much more is there to say on the subject?
There's tons to talk about, like in my post before this one showing how Emily Thomes accepted Jesus Christ as her Savior and married a man and left homosexuality behind. I'm surprised that Arthur Brain didn't comment about her and say that she's a liar.
Peter LaBarbera at Americans For Truth About Homosexuality is still talking about the subject, in fact he's giving the 'EX Gay movement' a lot of publicity:
WATCH: Full AFTAH Banquet Video Featuring Ex-Gay and Homosexual Predator Victim Stephen Black
https://americansfortruth.com/2017/1...stephen-black/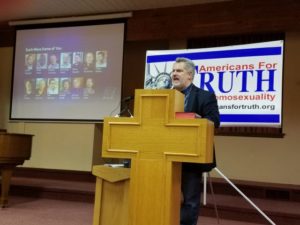 Stephen Black addresses Americans For Truth "Teach-in." Black received the AFTAH "American Truth Teller Award" for 2017.
https://americansfortruth.com/upload...ed-300x225.jpg
With you being a recovering homosexual, I wanted to personally thank you for providing the information that you've supplied while blogging at TOL about the LGBTQ movement and what was the cause of your same sex desires, and most importantly, how Jesus Christ saved you from a life of darkness, lies and deceit.