RSR: Dobzhansky 40 Years Later Pt. 2
This is the show from Friday May 31st, 2013
SUMMARY
: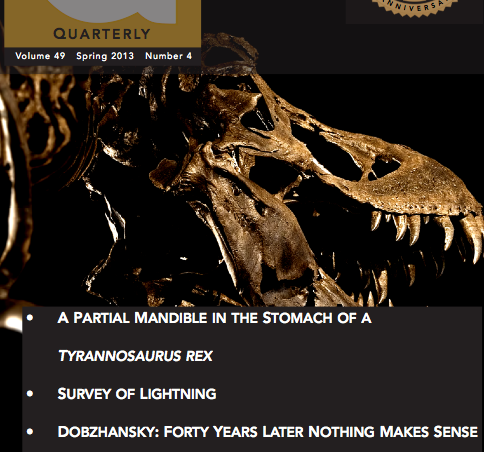 * Evolutionist: Nothing in Biology Makes Sense:
Real Science Radio hosts
Bob Enyart
and
Fred Williams
continue their discussion about a paper in the latest journal edition of the Creation Research Society Quarterly. Forty years ago the scientist credited with developing the reigning paradigm of neo-Darwinism, Theodosius Dobzhansky, published his iconic article with the famed title,
Nothing in Biology Makes Sense Except in the Light of Evolution
. The decades since have seen his three predictions falsified; regarding genetics, the role evolution would play in biological science, and, of all things, a prediction about one particular Arab sheik whom Dobzhansky identified by name!
For today's show we recommend
:
The Real Science Radio Collection: 2006 - 2011
* To Get Bob's Paper, Just Subscribe to the CRSQ
: The Creation Research Society just published Bob Enyart's paper,
Dobzhansky -- Forty Years Later Nothing Makes Sense
, on the 40th anniversary of the most popular evolution article ever written. If you'd like to read Bob's Dobzhansky paper, all you would need to do is to
become a member
of the CRS
or subscribe
to the Quarterly! You'll get
triple-bang for your buck
! It would be a few minutes and dollars wisely invested, and in doing so, you could
encourage their ongoing creation research efforts
, read Bob's educational paper, and help Real Sciece Radio accomplish one of our goals, which is to be a blessing to creationists everywhere!
Today's Resources
: Have you browsed through the
Science Department
in our KGOV Store? You'll love the superb kids radio programming,
Jonathan Park: The Adventure Begins
! Also, you can order any of our BEL and 3rd-party resources, just call us at 1-800-8Enyart.
* RSR's Popular "List" Shows 2013 Schedule
:
January:
List of Not So Old Things
March:
List of Evidence Against the Big Bang
May:
List of Peer-reviewed Dino Soft Tissue Papers
July:
List of Genomes that Just Don't Fit
Aug:
List of Carbon 14 Where it Shouldn't Be
Sept: List of Scholars
Doubting Darwinism
and the Big Bang
Nov:
List of the Fine Tuning
of Creation